War
The game studio most famous for putting Xbox on the map with Halo will soon be working for PlayStation, as Sony has announced its intention to acquire Washington-based Bungie for $US3.6 billion ($5.1 billion).
The move comes just weeks after Microsoft announced a history-making $96 billion deal to acquire Activision Blizzard, makers of Call of Duty. In both cases the giant companies have said existing games will continue to operate on all platforms, and that their new studios may continue to publish certain games on rival services.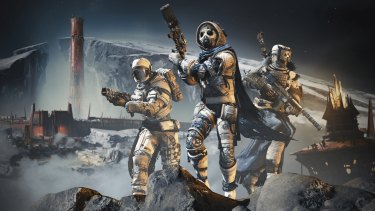 But reading between the lines it's clear both Microsoft and Sony are shoring up their assets for a coming content war not just with each other, but with Google, Amazon and Apple too.
"Bungie will remain an independent and multi-platform studio and publisher," said Sony Interactive Entertainment CEO Jim Ryan in announcing the deal.
"They will be fully backed and supported by Sony and enabled to do what they do best; build incredible worlds that captivate millions of people."
Loading
While Sony may have no immediate plans to lock Bungie games exclusively to PlayStation, the acquisition should benefit its consoles and services in other ways. Facing a potential future where the massively popular Call of Duty franchise is not available on PlayStation, Bungie's technology and expertise should allow other Sony-owned studios to build up its own in-house first-person shooter.
It also means that, as Bungie continues to develop its own multiplayer epic Destiny and its unannounced successor, Sony can ensure it attracts players to its platforms with exclusive gear or early updates.
Microsoft's Activision deal, which is pending regulatory approval and is expected to be finalised next year, will be the largest aquisition in video game history by a huge margin. It will bring the total number of Xbox-owned studios to more than 30, as Microsoft continues to flesh out its subscription and cloud-based Game Pass offerings.
In 2020 Microsoft Gaming CEO Phil Spencer said its real rivals in the gaming space were not Nintendo or Sony but other tech giants, and his meaning has only become more apparent as Google, Amazon and Apple have continued to invest in cloud infrastructure, software streaming, augmented reality and the metaverse.
By that measure Sony, a Japanese electronics company worth a few hundred billion dollars, may find itself dwarfed in the games space by multi-trillion-dollar companies. But it is currently the leader in console sales and the premiere creator of big-budget cinematic video games, a position it clearly intends to hold by ensuring the tech giants can't scoop up talent like Bungie which may end up creating the next big thing in online gaming.
In an interview with Gamesindustry.biz, Sony's Ryan said PlayStation had "many more moves to make", when it came to acquiring talent.
And for Bungie, this move brings it the distinction of being the first games studio to have been owned by Microsoft and Sony. The 30-year-old studio saw success as an independent team making Macintosh games in the 1990s, to the extent that Halo was unveiled to the public by Steve Jobs at Macworld in 1999. But Microsoft bought the studio, and Halo, in 2000 to support the launch of its new Xbox console.
After seven years at Microsoft Bungie announced it was becoming an independent company again, and published its final Halo in 2010, although Microsoft would hold on to the rights to the franchise. It would then go on to sign a 10-year exclusive publishing deal with Activision Blizzard, for what would eventually be revealed as Destiny. However it terminated the agreement after eight years, claiming Activision was prohibitively controlling.
Loading
In a blog post detailing its deal with Sony, Bungie CEO Pete Parsons said it had finally found a partner that will support its creative independence.
"The most immediate change you will see is an acceleration in hiring talent across the entire studio to support our ambitious vision," he said.
"Our games will continue to be wherever our community is, wherever they choose to play."
Get news and reviews on technology, gadgets and gaming in our Technology newsletter every Friday. Sign up here.
War Most Viewed in Technology
Loading