Sports
Legendary sportscaster Mal Isaac, a member of the Canadian Football Hall of Fame's media wing, passed away Saturday at age 84.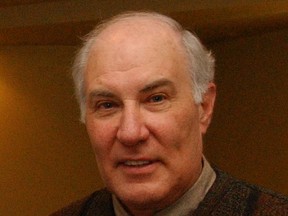 Mal Isaac extracted every precious second from 84 years that were a gift to everyone who knew and loved him.
Sports Advertisement
This advertisement has not loaded yet, but your article continues below.
He survived five heart attacks, two quadruple bypass surgeries, one heart transplant and a stroke — all with nary a word of self-pity.
He wouldn't engage in self-congratulations, either, even when so many of us were lined up to applaud him.
He was the nicest man. And we will miss him so much.
Mal passed away on Saturday, having endured and overcome more medical setbacks than anyone I have ever met.
"For the last two decades, no matter what he was dealing with — heart issues leading to a transplant, then a stroke, and then diabetes — he continually amazed not only family but wonderful medical people as well by maintaining an incredibly positive attitude," says Mal's younger brother, fellow broadcasting legend Dale Isaac.
"He never wanted the conversation to be about him."
Sorry, Mal, but this one is about you.
About the way you lived your life.
About your excellence as a husband (to Vivian) and a father (to Scott and Erin).
About the way you treated people.
About the way you entertained and informed us.
During my formative years in Regina, I looked up to Mal and Dale Isaac, to Bob Hughes — to all the prominent people in a sports media fraternity that I desperately wanted to join, someday.
I was hired full-time by the Regina Leader-Post in 1987. Early the following year, I was asked to do one of the weekly features that appeared on the front of our Saturday sports section. Cover Story, we called it.
I was given my choice of the person about whom I wished to write.
Sports Advertisement
This advertisement has not loaded yet, but your article continues below.
"Mal Isaac!" was my instantaneous response.
He was then with CBC, with which he was employed from 1974 until his retirement in 1995. He initially worked in radio and TV at CBC, before shifting his focus solely to the AM version in the early 1980s.
We had the longest, most wonderful chat about a career that was still going strong.
By then, Mal had been in broadcasting for 30 years. He started out at CFSL in Weyburn before accepting radio jobs in Yorkton (CJGX), Regina (CKCK) and Sudbury, Ont.
That was all a prelude to four years spent at the Saskatoon StarPhoenix. He then attended the University of Regina for two years before returning to the fine art of newspapering.
From 1968 to 1974, Mal worked in the L-P's sports department. In fact, it was Mal who principally covered the Regina Pats when they last won the Memorial Cup, in 1974.
Next stop: CBC.
Another destination: The Canadian Football Hall of Fame. Mal and Dale Isaac were both inducted into the Hall's media wing during Grey Cup weekend in 2003.
For Mal, 2003 was an eventful year for other reasons. On June 17 of that year, he had undergone a heart transplant. The original heart had virtually ceased to be functional.
"Now I feel like I do have a future — I know I do," Mal told me nine days after the surgery. "It means so much to my family and my friends, who have all been so supportive. It's hard to put into words how supportive everyone has been.
"Now it's onwards and upwards. I have a whole new life."
What a rich, remarkable life it was.
The news seems to be flying at us faster all the time. From COVID-19 updates to politics and crime and everything in between, it can be hard to keep up. With that in mind, the Regina Leader-Post has created an Afternoon Headlines newsletter that can be delivered daily to your inbox to help make sure you are up to date with the most vital news of the day. Click here to subscribe.
Regina Leader Post Headline News
Sign up to receive daily headline news from Regina Leader-Post, a division of Postmedia Network Inc.
By clicking on the sign up button you consent to receive the above newsletter from Postmedia Network Inc. You may unsubscribe any time by clicking on the unsubscribe link at the bottom of our emails. Postmedia Network Inc. | 365 Bloor Street East, Toronto, Ontario, M4W 3L4 | 416-383-2300