Game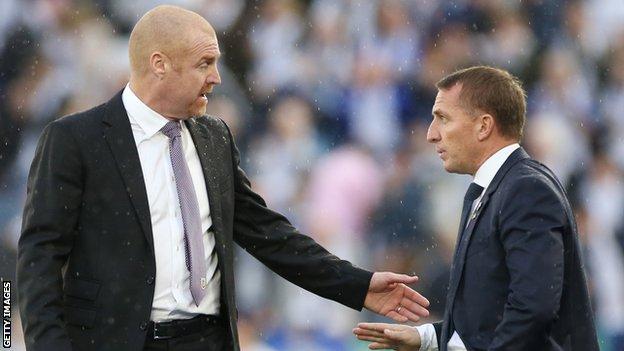 Burnley's home game against Leicester City on Saturday has been postponed because of Covid-19 cases and injuries within the Turf Moor side's camp.
The Premier League said it accepted Burnley's request to call the game off as the Clarets did not have enough players to fulfil the fixture.
Premier League rules say a club must play a game if they have 13 outfield players and one goalkeeper available.
It is the 20th top-flight game to be postponed this season because of Covid.
Burnley had games against Watford, Aston Villa and Everton postponed in December because of Covid-19 cases among the opposing teams.
The game against Watford has been rescheduled to take place on Tuesday, 18 January and that could now be in doubt.
Burnley were without boss Sean Dyche and a number of first-team players because of Covid-19 when they were knocked out of the FA Cup by Huddersfield Town last Saturday.
"The board assesses applications to postpone matches on a case-by-case basis, based on existing rules and adapted Covid-19 postponement guidance, implemented in light of the new Omicron variant," said a Premier League statement.
"The board will assess a number of factors, including the ability of a club to field a team; the status, severity and potential impact of the Covid-19 outbreak at the club; and the ability of the players to safely prepare for and play the match.
"The board must also consider the wider risks to the opposition and other people the club representatives may come into contact with."
Premier League has to handle this – Hasenhuttl
Burnley's game against the Foxes has been postponed after striker Chris Wood completed a move to relegation rivals Newcastle United on Thursday after the Magpies triggered a release clause in the 30-year-old's contract.
Southampton manager Ralph Hasenhuttl believes there should be more transparency from the Premier League over the issues behind the decisions to call off matches.
"They have opened the door and you cannot be surprised that someone is walking through now," said Hasenhuttl.
"I cannot say anything about the Covid situation there because this is normally the reason why you cancel games. You have no view, no transparency and you cannot say anything about that, the rest is speculation.
"They lost a striker, I don't know, everything is speculation. The Premier League has to handle this.
"This is why I say it that players or new signings shouldn't be allowed to play in cancelled games when they haven't been there before this game was due to play.
"This is a problem they have and its hard to solve it in the moment."
Chelsea manager Thomas Tuchel said he hoped clubs were not taking advantage of the rules regarding postponements.
"I strongly, strongly hope that is not the case because I would be very angry," said the Blues boss, who will be without Andreas Christensen against Manchester City on Saturday after the defender tested positive for Covid-19.
"We are doing everything to make games happen and we were made to play when we thought we maybe should not.
"So, I strongly hope the rules are the same for everybody."