Democracy
Radio host Charlamagne tha God has blamed three Democrats—President Joe Biden, Arizona Senator Kyrsten Sinema and West Virginia Senator Joe Manchin—for the death of American democracy.
Charlamagne recognized the trio as the "Donkey of the Day" on the Thursday broadcast of his radio program The Breakfast Club after the Senate Democrats' failed vote to eliminate the Senate filibuster on Wednesday.
He said he believes the U.S. is witnessing the death of democracy, adding, "These three are to blame. Simple as that." He also blamed them for "the death for the Democratic Party as we know it."
Since last summer, Republican-led legislatures in 19 states have enacted 33 laws that will make it harder for Americans to vote. Knowing this, Biden should have made "his first order of business" to protect voting rights, Charlamagne said.
The radio host then laid out three things he thought Biden should've done to protect democracy upon becoming president.
Foremost, he said Biden should prosecute the members of "vanilla ISIS" involved in the "attempted coup" of the Capitol on January 6, 2021, including congressional members. Second, he said Biden should've gotten rid of the filibuster so he could "properly govern." Third, he said Biden should've immediately moved to protect voting rights.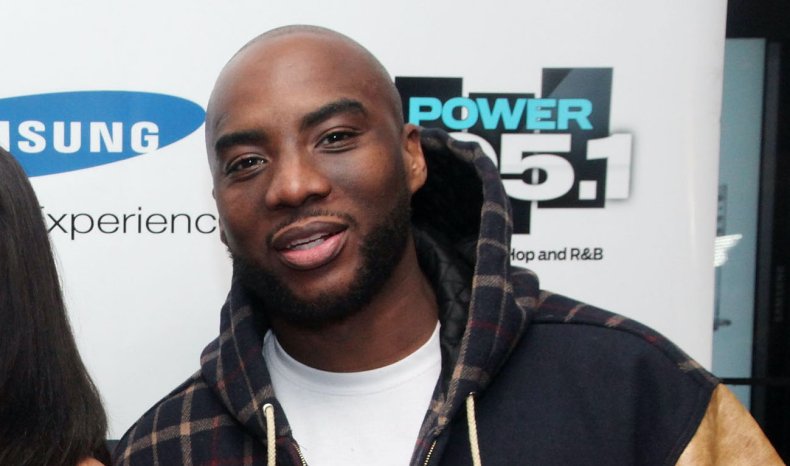 Charlamagne played a clip of Republican Congress members thanking Manchin and Sinema for their commitment to keeping the filibuster. He then read some of Biden's comments after the failed filibuster vote, adding he felt a lack of "urgency" in the president's remarks.
"Why can't President Biden call out Joe Manchin and Kyrsten Sinema for blocking his agenda when them blocking his agenda is actually hurting the American people?" Charlamagne said. "If you ask me it's because he don't care. Black people voting is simply not a priority for Biden, Manchin or Sinema."
"They have never experienced their voting rights threatened and they don't need you negroes to win elections, so why should they care?" he added.
The radio host continued by saying that elected officials always put more urgency behind urging people to "go out there and vote" than they do on actually protecting voting rights.
"In order to protect democracy…we have to vote like democracy depends on it, but they never ever govern like democracy depends on it," he said.
He wondered what Democrats could say to encourage voter support during the 2022 midterm elections, noting that Democrats have been unable to pass their campaign promises of voting rights protections, student debt forgiveness, the George Floyd Policing Act or the Build Back Better Act.
Current Senate filibuster rules require most legislation to get at least 60 Senate votes to pass. With the Senate evenly split between Democrats and Republicans, Democrats have been unable to get 10 Republican senators to support any significant legislation on expanding voting access, LGBTQ rights, immigration, police reform, firearm regulation and other high-profile national issues.
All 50 senators in the Democratic Caucus would need to vote in favor of ending or modifying the filibuster for it to change. Sinema and Manchin joined Senate Republicans in a Wednesday night vote to maintain the filibuster.